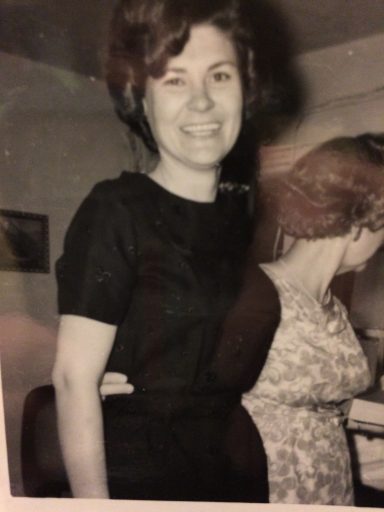 1964 with Faye in her homemade black dress 
My latest book, HALLEY, awarded 2015 Jefferson Cup Honor for Historical Fiction, awarded the Moonbeam Silver Medal for Young Adult Fiction, and awarded the 2016 Frank Yerby Award for Fiction. Available at: NewSouth Books: www.newsouthbooks.com/halley and Amazon.
It's been at least twenty years since I owned a real dress.  I quit buying dresses when the local tall girl shop went out of business and the one line of nice dresses with a waist long enough to hit my middle in the right place disappeared from the department store racks.  The other day, for the umpteenth time, my wonderful husband mentioned how stunning I always was in the black dress I was wearing the night he met me fifty-five years ago this past January 21, and he asked for the umpteenth time, "Why don't you wear that dress anymore?"
There are a number of reasons, but let's just say the answer is complicated.  Number one, that dress would be rotten with old age if it still hung in my closet.  Secondly, the waist would never, ever accommodate my present circumference.  Though I weigh approximately the same amount in actual pounds, my flesh has decidedly expanded and more of it hangs around my middle.  So as the years have gone on, I've found a new look—mix and match "separates."
I didn't actually purchase that dress my sweetie loved, by the way.  What with a beginning teacher's pay and student loans to pay off, I couldn't afford store bought clothing.  So after college, I took up sewing.  I'd never had lessons—had even refused several opportunities for sewing classes.  Who needs a class, I thought.  I can read patterns.  Well, yes, but I didn't always understand them.  Why worry about the "ease" designed into a sleeve, when it was much quicker to simply cut off the extra fabric after sewing it into the armhole?  Then there was the option of just going sleeveless.  Back then, I had trim, firm upper arms, and I wasn't bothered by chilly air.  Many of my dresses were sleeveless.  Ain't youth grand!
Another saving—I never needed as much fabric as the pattern called for.  Simply by ignoring the silly part of the instructions about cutting on the straight of the fabric, and going with the "nap," I turned those patterns this way and that to best save on yardage.  Then there were zippers.  I had trouble sewing a straight line, and so my stitching meandered from the standard required half inch from the zipper teeth to so far off that I drifted past the seam allowance entirely.  Or, other times got so close to the teeth that the zipper had to be tugged repeatedly past those areas.  No problem—if you had matched your thread properly, you simply resewed in the proper place and frequently you didn't even have to pull out the meandering seam.  Who would notice?
My future mother-in-law, for one—and on our first meeting!  A decade later, after I'd had taken sewing lessons and learned all kinds of things, Mama Gibbons said one day, "Faye, you've learned so much since you married.  Now you make drapery, your sons' jeans, and nice clothes for yourself.  Before you and Benjie married…" She shook her head. "Well, you could cover yourself."
For a few years, there was a golden time when I was actually able to make a few acceptable dresses for myself and a still better time when it was possible for me to shop the tall girl shop earlier mentioned, and the department store's Liz Cleiburne dress line.  At one point I likely had four or five flattering dresses all at one time.  No more.  Today stores don't have what I need, though I have looked and even tried on.  Some dresses have the waist up under my armpits.  Others strive for the casual A line, reminiscent of maternity attire.  None tempted me to pull out my checkbook.  So I returned to the fabric stores.  Lord, do you realize what good cloth costs these days?  Fifteen to twenty dollars per yard and more.  Then there are patterns.  They run from ten to thirty dollars.  And none of them promise to be very flattering.  I don't care for the "cold shoulder" look or the asymmetrical, look and I no longer want to display my knees or my bosom.  Oh, and although my legs are one of the better preserved parts of my anatomy, I don't want to wear skin tight leggings or skinny pants which reveal any cellulite or body hair that happens to be present.  I hope the public appreciates this.   Not every woman my age is this considerate.  Just go to any Sprawl-Mart and see for yourself.
So I am still left with the problem of finding that little black dress my husband is longing to see.  Hmmmmm.  Maybe the answer is to hire a hypnotist to convince Benjamin to "see" me in that black outfit from 1964.  His fee is almost sure to be less than I'd pay for an actual dress, and I don't have to dig my sewing machine out of storage!