My latest book, HALLEY, awarded 2015 Jefferson Cup Honor for Historical Fiction, awarded the Moonbeam Silver Medal for Young Adult Fiction, and awarded the 2016 Frank Yerby Award for Fiction. Available at: NewSouth Books: www.newsouthbooks.com/halley and Amazon.
School Where my Father-in-Law Taught and His Sons Attended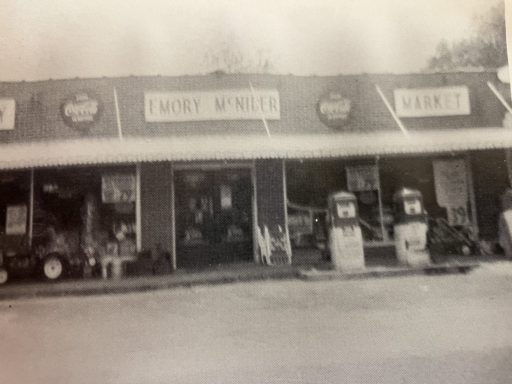 My husband's parents moved to a tiny backwoods town in Alabama in 1947 when Daddy Gibbons became the new Agriculture teacher at the one and only public school there. At first, Mama Gibbons was dismayed with the move. As a woman who grew up in Auburn, a college town, she felt she'd moved to the back of nowhere. The only pavement was the main highway. There were no sidewalks.There were two small stores, a tiny post office, and a collection of houses. Around the town there were many small farms. Daddy would get to know these farms well. He had been in veterinary school at Auburn until he reached the level where he had to have surgical instruments. It was during the depression and there was no way he could find the money for such a purchase, so he switched to agriculture as his major.
When it became known in the community that the new ag teacher was almost a vet, he was soon on call to deliver calves, treat sick horses and cows, and castrate bulls. Of course he could not charge for this and most of the people could not afford to pay anyway. It was also discovered that he was an electrician, a lawnmower repairman, and general handyman. All without pay. Many people were appreciative and tried to show it, but Daddy had almost no free time. Exhaustion was his constant companion.
My husband said he once asked his father why he was willing to get out of bed to treat a farmer's sick animal when he got no pay for it. Daddy answered, "Most of these people can't afford to pay veterinary bills and the loss of one animal might mean the family would go hungry. I don't want any children going hungry."
One old panhandler from out in the county hitched into town every two or three weeks. He would do his shopping at the stores in coffeeville and then shoot the breeze with anyone willing to give him the time. When he was ready to go home, he would lug his purchases to the Gibbons house. Even if Daddy was out on a sick animal errand, he would take a seat in the living room. He wouldn't ask for a ride, but he would make no move to leave. Invited guests might arrive, Mama could begin supper or even call the kids in to bathe for the night, and the old man wouldn't budge. Finally, Daddy would ask, "You need a ride home?" Invariably, the man would reply as if the thought had only that moment come to him, "I believe I do." On a teacher's pay, gas was a luxury even back then. Daddy said he wouldn't have minded taking his turn if only the man had spread the favor around to others in town. He never did.
To complicate life further, Daddy wasn't a well man during his early Coffeeville years. At 6 feet, 4 inches, his weight eventually plummeted to 130 pounds. At last a doctor in Mobile discovered the problem—he had a benign growth on his thyroid gland. The doctor successfully removed it, and after that things got better for Daddy.
The Gibbons boys took to Coffeeville at once. Benjamin was five and Earl one when they arrived. They had a Tom Sawyer childhood. The Tombigbee River was close by and there were forests galore. There was even a long abandoned "ghost" mansion right in the middle of town. Earl eventually married a local girl, and they still live in the area. Benjamin visits frequently with friends who've stayed in Coffeeville and some of those who moved away. Mama came to love Coffeeville and the women who were her neighbors. She was often the first to show up when neighbors had sickness or a death in the family. They showed up when Mama needed help too.
When Benjamin and Earl were nearly grown, and their mother pushing 40, Mama gave Coffeeville something to gossip about—There was a late, unplanned baby on the way in the Gibbons family.  When the shock wore off Daddy was probably the one who let the cat out of the bag.  He was so proud! And when a beautiful girl was born in 1957, he bragged to everyone in town about his "fall crop." Mel Anita was six when I came into the family. She was still a beauty.
Coffeeville had one last bit of hot gossip to pass around in 1967, when Daddy announced he was leaving to take a job at a school in Elmore County. It was a hard move for Mama. The end of the world had become the center of the world for her. Years later, on one of her last medical visits, the doctor asked, "Now, Mrs. Gibbons tell me about this pain in your side that you're having every now and then."
Mama thought for a moment and then said, "Well, it all started in Coffeeville…"
I believe she had it right, at least for so many things in her life—they started in Coffeeville.
No better place to start!