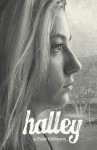 FAYE GIBBONS' PUBLICATION LIST
 HALLEY
HALLEY is my latest book and can be purchased at NewSouthbooks  "www.newsouthbooks.com/halley" , at Amazon  "http://www.amazon.com/s/ref=nb_sb_noss?url=search-alias%3Daps&field-keywords=halley+faye+gibbons", or your local book store.
HALLEY has received prestigious reviews:
"…I like a story with clear villains and heroes, and this one has both…It's a book for any age–and of the ages."   Rheta Grimsley Johnson, syndicated columnist, December 31, 2014. Read more @: http://www.montgomeryadvertiser.com/story/life/2014/12/30/books-need-know/21067165/

..A richly rewarding look at an era."  Kirkus, September, 2014 (starred review). Read more @: https://www.kirkusreviews.com/book-reviews/faye-gibbons/halley/
"…With shades of Richard Peck in this novel's DNA, Gibbons tale features a strong and unique voice."  School Library Journal, November, 2014  (starred review). Read more @: http://www.slj.com/2014/11/reviews/best-of/november-starred-reviews/

 The following books are my earlier works and can be purchased at Amazon.
SOME GLAD MORNING
-A Georgia juvenile book of the year
MIGHTY CLOSE TO HEAVEN
-ALA "Best Book" List
KING SHOES AND CLOWN POCKETS
-USA TODAY Pick of the List
NIGHT IN THE BARN
-Smithsonian Magazine Notable Book
-Sesame Street Parents Kid Hit
-"PBS Storytime" Title
-Alabama Reader's Choice Award
MOUNTAIN WEDDING
-Child Study Children's Book of the Year
-Society of School Librarians International Book Award
-Library Guild Selection
HOOK MOON NIGHT
-Atlanta Constitution Book of the Week for Halloween
MAMA AND ME AND THE MODEL-T
-Author Award from Antique Automobile Association
-New York Times Book Review Feature
EMMA JO'S SONG
-Well Recommended" book by Children's Bookwatch
-Storytelling World Award Honor Book
FULL STEAM AHEAD
THE DAY THE PICTURE MAN CAME
HERNANDO DESOTO: IN SEARCH OF GOLD AND GLORY
HORACE KING: BRIDGES TO FREEDOM
BREAKING NEW GROUND