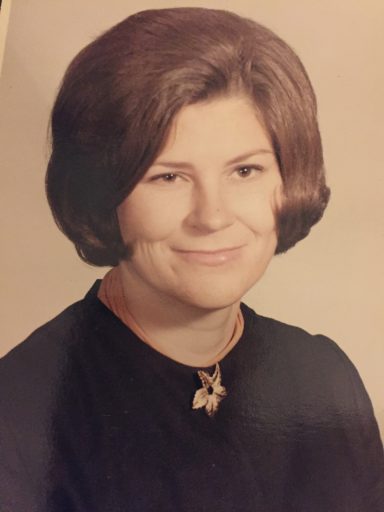 Faye at the time of the great PTA musical 1967-68
My latest book, HALLEY, awarded 2015 Jefferson Cup Honor for Historical Fiction, awarded the Moonbeam Silver Medal for Young Adult Fiction, and awarded the 2016 Frank Yerby Award for Fiction. Available at: NewSouth Books: www.newsouthbooks.com/halley and Amazon.
Loretta Lynn said in a recent interview that mountain people didn't need music lessons.  Just hand them an instrument and they'd fool with it a while and then start playing music.  Apparently this applies to song writing too, in her opinion.
Well, this mountain girl didn't get any of that talent.  I took piano lessons for two years as an adult and then naively asked my teacher how long it would take for me to just sit down and play without having to plod along note by note by note.  Honest man that he was, he didn't sugar coat his reply. "You'll never be able to do that," he answered.  "Why not? " I asked.  "Because you don't have any talent," he said.
That finished my music career! But I really should have figured it out for myself.  One time, back in the Sixties when I was teaching 5th grade in Huntsville, Alabama, the Huntsville School System music coordinator came to our school  to prepare our students for a PTA program in which each grade would perform one song.  She asked all us fifth grade teachers to practice our assigned song with our students until her return.  On the appointed day she had each grade level perform, making suggestions for improvements for each group.  When the three fifth grades took their turn, she began to frown.  "You," she said pointing to a student of mine in the first row, "Come stand by me."  The song continued and she pointed to another kid, and another, and another.  Before the song was finished, she had practically every student in my class crowded around her.  She chose several of my students after listening to them sing a few lines.
"Mrs. Gibbons," she said, "I don't want you singing with your class anymore.  I'm going to choose one of your students with a good ear to lead singing from now until the PTA program."  She didn't say my musical skills sucked, but I got the message.
I know who's to blame for my missing musical talent—my mother.  When in a very good mood, Mama would sing around the house.  It was maddening to hear her slaughter a perfectly good song, sometimes getting almost on the right tune, but never quite making it.  None of us kids had the nerve to tell her, but somebody else must have, because occasionally she would say after one of our father's musically talented relatives performed, "I couldn't carry a tune in a bucket."  And nobody argued with her.
After I became a regular at the little Methodist church we moved close to when I was fifteen, one of the church leaders asked me to sing a solo some Sunday.  He said he'd noticed my singing talent and thought I should share it!  I wanted to believe him, but in my heart I knew it was just his way of drawing me closer to the church.  I'd heard some of the other "talented" girls he'd found.  Some were good, but some were embarrassingly awful.  Thank goodness, in the end I let my common sense overrule my ego.
The man would have been wiser to ask my brothers.  John, Jerry, and Mike inherited Daddy's musical talent—and his confidence.  No doubt that self assurance is a part of it.  I once heard an expert say that even when he'd lost a lot of quality from his voice, Frank Sinatra was still worth listening to because he could "deliver a song better than anyone."  The Junkins men had the voice and the delivery.
Now I confine my singing mostly to church services.  And then I take pains to sit near a very good singer, whom I can follow and sort of blend with. I learned never to sit near another person as bad or worse at carrying a tune than myself.  One fellow church member years ago was so bad and so loud that I didn't sing at all until I changed to another pew well across the sanctuary.  I learned from experience that if I were close, I'd follow wherever she led.  Cain's Chapel United Methodist ChurMW is two hundred years old, but that woman and I might have closed down the church long before now if we'd tried to harmonize.
So Loretta, I hate to tell you, but not all of us mountain people are as talented musically as you.   However, you still ain't woman enough to take my man!