My latest book, HALLEY, awarded 2015 Jefferson Cup Honor for Historical Fiction, awarded the Moonbeam Silver Medal for Young Adult Fiction,  and awarded the 2016 Frank Yerby Award for Fiction.  Available at: NewSouth Books: www.newsouthbooks.com/halley and Amazon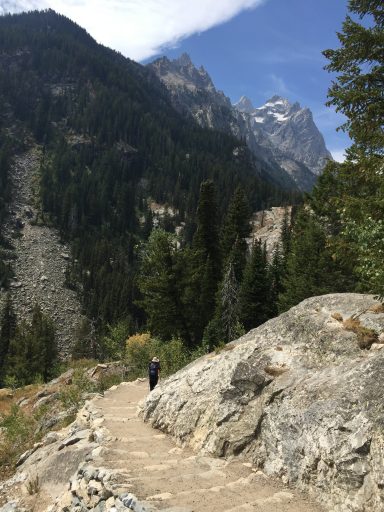 Faye Hiking in Grand Teton National Park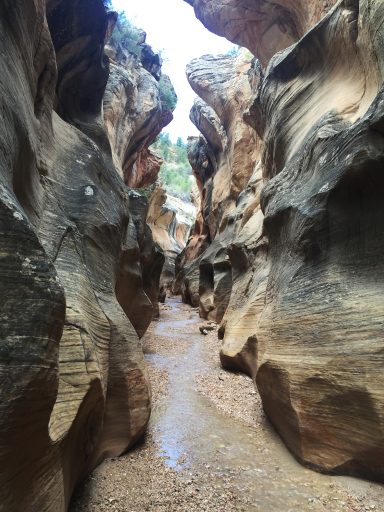 Willis Creek Slot Canyon near Escalante, UT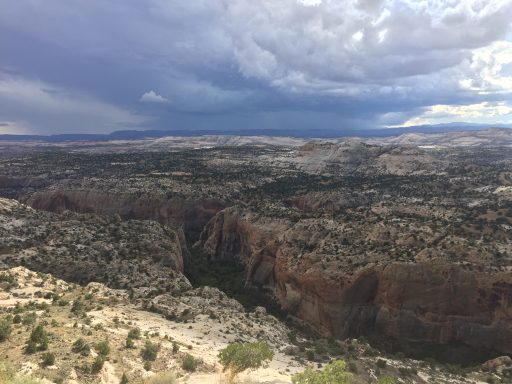 Summer Storm near Escalante, UT
After four wonderful, scenic, exciting, tiring weeks out West, we are home!
Benjamin and I dug for fish fossils in Wyoming—and found them.  We searched for fossils in other areas with less success.  But we eventually ended up with two leaf fossils, several shell fossils, and a few pieces of petrified wood.  We hiked in Wyoming, Nevada, and Utah, and enjoyed them all with the partial exception  for one near Escalante, Utah.  Having some degree of claustrophobia, I don't like to spend much time in canyons where the walls can be only an arm's length—or less—away on either side.  It's especially frightening when those walls soar upwards for a hundred feet or more—impossible to climb if a sudden rainstorm 40 miles away floods the canyon faster than a speeding locomotive.
But Benjamin is an old hand at convincing me to venture out of my comfort zone.  He checked with the weather people and there was no rain predicted.  "The canyon is only a mile and a half long," he assured me.  "The bottom of the canyon is mostly dry—no wading.  Best of all, the canyon walls are not as close as some, and a lot of the way the walls are low enough to climb, in case of flood—which," he hastened to add,  "we won't have."
I agreed to go.  And, at first, everything was just as he had promised—walls were low and the floor was wide.  Plenty of promising rocks littered the ground—possible fossils.  There was a narrow little stream snaking along, but it left a lot of dry, pebbled walking area for our passage.  Then as we progressed, the walls began to rise and the floor began to narrow.  The steam widened to fill most of that floor and I was searching for the shallow areas before placing my feet.  Finally, the walls towered overhead in undulating surfaces that a rock climber probably couldn't handle without lots of equipment.  At about one mile the sky began to darken, and Benjamin, knowing this might be a deal breaker, sped up.  When a group of hikers splashed by, Benjamin called back to me, "See, there's no danger, or they wouldn't be here!"
"That's probably what the passengers on the Titanic told each other," I yelled back.
"We're almost there," Benjamin said. "We can't turn back now."
But the sky was getting darker and the walls taller.  Suddenly, I heard a rumble of thunder.  "Thunder just sounds louder out here, than back home," he assured me.  "We're almost at the end."
Thunder crashed right overhead, and I panicked.  "I'm going back," I yelled.  "Right now."  I turned and, forgetting my troublesome knee, I moved as fast as I could without actually running.  I forgot about finding the shallow places in streams and the flattest walking areas.  I scampered over boulders that I had cautiously navigated on the way in.  All at once the hikers who had passed us earlier ran past, heading in the opposite direction.  One of them tripped and fell when climbing over a huge boulder.  She managed to get up and limp on not much faster than I was moving.  Soon they were all out of sight—including the injured one.  Looking back, I didn't see Benjamin.
About ten minutes later, I got back to the area where the banks were low enough for me to climb in an emergency, and I was able to slow down and catch my breath a bit.  There was still no sign of my husband when I came to the point where the trail left the canyon.  I trudged uphill.  It seemed to have stretched out a lot longer than I recalled.  Of course, it was the wrong trail.  Fortunately, I had climbed high enough to see in the distance what had to be the parking area at the trailhead. And there was our car, still shaded by one of the few trees big enough to cast a shadow.  Thank God, I knew which direction to go in.
By the time I got to our dusty old Honda, the thunder had moved further off and the sky had lightened.  It was obvious that the danger of a flash food was over.  Exhausted, I let the passenger seat back into a reclining position and went to sleep.  No doubt my husband was going to be disgruntled by my desertion, but I was too tired to worry about it.  When Benjamin woke me he was raving about the slot canyon and how sorry he was that I had missed completing the hike.  I tried to put on a repentant face.
I waited until the next day to tell him I had just entered my last slot canyon.
And this time I mean it.