My latest book, HALLEY, awarded 2015 Jefferson Cup Honor for Historical Fiction, awarded the Moonbeam Silver Medal for Young Adult Fiction,  and awarded the 2016 Frank Yerby Award for Fiction.  Available at: NewSouth Books: www.newsouthbooks.com/halley and Amazon.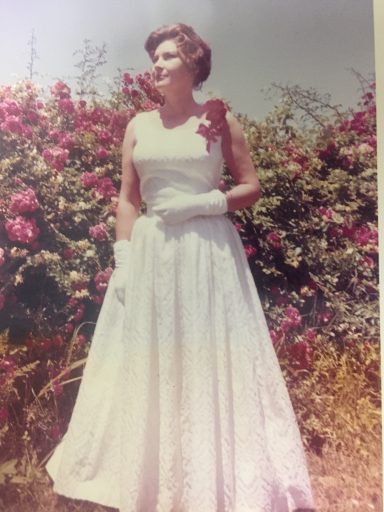 Go back to the spring of 1961 and read how Faye Junkins became Cinderella at the ball on her second date.
So in the late fifties I went off to Berry College, a woman of experience (Not!), having one date under my belt.  I was shy—especially around boys—and social events were misery for me.  Mostly, I avoided the parties and teas whenever possible.  It probably was a good thing in the long run, because with my patchwork schooling up to that point, I was totally unprepared for college.  If I hadn't studied diligently, I would have had a very difficult time passing my classes.  Gradually I made friends with the girls in the dorm, on my job as a waitress in the Berry dining Hall, and a few male classmates.  I even had a couple of opportunities to date, but I wasn't ready, so I turned them down with no regret.  But by the time I was a senior, I was ready for a change.
Marriage still wasn't in my hopes or plans.  I envisioned an independent future in which I supported myself and didn't have to answer to anyone (Good luck on that!).  But why not do more with whatever looks I had?  And, if the right guy showed up, why not date?  By this time my Aunt Hilde Junkins had become aware of how I girdled my bosom down to a smaller size and bought me two Bali bras in 36D, and said, "Don't be an idiot, Faye.  Hiding your assets is getting you nowhere."  I felt conspicuous for the first several days with my early Dolly Parton chest, but the relief of escaping the confines of 34B soon won me over.
By January of my senior year I had decided I was going to the Senior Prom (I think it was actually called Senior Dance or something similar, but it was THE PROM to me).  And (here was the hard part) I was going to have a date, doggone it!  I had learned by this time that it was considered acceptable for a senior girl to invite a lower class man to be her date.  I looked over the available guys, trying to find a possibility.  It had to be someone who was taller than me (that eliminated quite a few) and it had to be someone who didn't have a steady girlfriend already. I also wanted him to be handsome.
Soon I had him selected.  I'll call the young man  "Tom." A junior, he was the best-looking boy on campus, yet as far as I knew he had never had a steady girlfriend.  Next was the hard part—I had to ask him to be my date.  I rehearsed fifty different ways, but none seemed satisfactory.  He and I had a speaking acquaintance, so several times I worked up to the verge of the big request, only to chicken out at the last moment.  At last, I accidentally ran up on him right in front of Memorial Chapel and on impulse just asked.  
"I'd be honored,"  he replied.  
Relief!  Gratitude!  Jubilation! Life is good!
The next problem was what to wear.  I had money saved from working as a babysitter and sometimes as a maid for faculty members.  Not enough to buy a readymade gown, but it was enough to buy fabric.  I bought white brocade and a dress pattern.   Mama turned me down when I asked her to make it (I barely knew how to operate a sewing machine at that time, but she knew a woman who sewed for the public, so I hired her).  In the meantime, I started giving up desserts and those wonderful Berry yeast rolls so I could maybe have a real waist.  
My sister promised to put my hair up in a "French Twist" for the event, and I began experimenting with make-up.  Jean also agreed to let me borrow her long white gloves.  That was in addition to teaching me a little about how to dance!  She probably got permanent toe damage for her efforts.
Finally, I was ready.  The night of the prom, I felt like Cinderella.  Tom arrived in a white jacket and bringing a corsage.  We even danced a little.  All evening he was charming and attentive, though I felt sure he had no romantic feelings, and in the few weeks left 'til graduation, I didn't flirt with him—I didn't learn to flirt until well after Berry.  So one date was all it was. But still, down through the years I have remembered Tom with gratitude and affection.  He wasn't just the best looking boy at Berry—he was also the best!  
And, Tom, if you read this,  you're still Prince Charming to me!